Click to watch Rep. Arnold Mooney explain the new system and why it's needed during the February 28th press conference.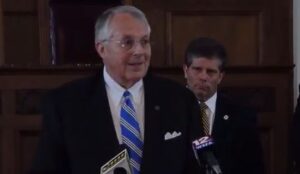 Eagle Forum and Eagle Forum of Alabama applaud and support the efforts of the Alabama District Attorneys Association and all other participants in voluntarily creating the Alabama Forfeiture Accountability System.

"Today's announcement of an interactive and searchable civil asset forfeiture database is a cause for celebration and a move in the right direction for all Alabamians," said Eunie Smith, President of Eagle Forum and Eagle Forum of Alabama. "All our efforts in government should be to increase freedom and protect the individual rights of our citizens. This important action taken by the Alabama District Attorneys Association will permit the Alabama Legislature to study and evaluate civil asset forfeiture in our state and determine any action that must be taken to protect the rights of Alabamians."

HERITAGE FOUNDATION APPLAUDS ALABAMA'S ASSET FORFEITURE REFORM

HERITAGE FOUNDATION: Alabama is taking important steps to bring greater transparency to civil forfeiture, the much-criticized practice that allows property to be seized even without evidence of a crime.
Starting Friday, officials across Alabama will document crucial data on civil forfeitures. This data will ultimately be available to the public in a searchable report, providing the clearest picture yet of how Alabama law enforcement agencies are using their civil forfeiture powers. Read more.