What we thought was true has now been proven without a shadow of a doubt. Social media platforms like Google have morphed into censorship giants who manipulate what the public sees and doesn't see.
A Pinterest whistleblower came forward last week to expose that pro-life and Christian posts were being tagged as pornography. Now we have a brave whistleblower from Google who has exposed a major scheme being played out at the world's largest and most powerful search engine.
A scheme designed to influence the 2020 presidential election as well as continued manipulation of data for partisan political purposes. Google, which owns Youtube has been censoring videos and posts that challenge their one-sided political agenda. They also are suppressing the truth with new "machine learning algorithms".
Watch the undercover video released today by Project Veritas. Then call google and tell them to stop censoring political speech. Phone numbers below.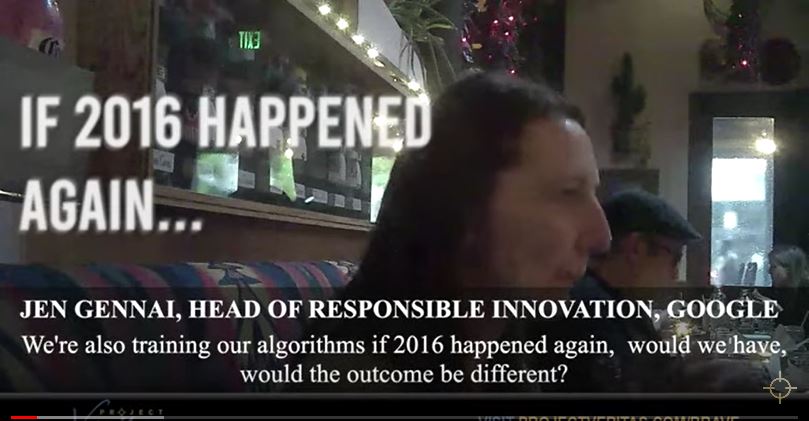 GOOGLE PHONE NUMBERS:
The main number is 650-253-0000. You then need to press 2, then 5 for the Mountain View office. (Main # often has a hold time. Field offices generally do not.
Google Headquarters
1600 Amphitheatre Parkway
Mountain View, CA 94043
Phone Number: 650-253-0000
Ann Arbor
2300 Traverwood Dr.
Ann Arbor, MI 48105
Phone Number: 734-332-6500
Atlanta
10 10th Street NE
Atlanta, GA 30309
Phone Number: 404-487-9000
Austin
500 W 2nd St., Suite 2900
Austin, TX 78701
Phone Number: 512-343-5283
Boulder
2600 Pearl Street
Boulder, CO 80302
Phone Number: 303-245-0086
Cambridge
355 Main Street
Cambridge, MA 02142
Phone Number: 617-575-1300
Chapel Hill
200 West Franklin Street
Chapel Hill, NC 27516
Chicago
320 N. Morgan, Suite 600
Chicago, IL 60607
Phone Number: 312-840-4100
Detroit
52 Henry St., 3rd Floor
Detroit, MI 48201
Phone Number: 248-593-4003
Irvine
19510 Jamboree Road
Irvine, CA 92612
Phone Number: 949-794-1600
Kirkland
777 6th Street South
Kirkland, WA
Phone Number: 425-739-5600
Los Angeles
340 Main Street
Los Angeles, CA 90291
Phone Number: 310-310-6000
Miami
1450 Brickell Ave., Ste 900
Miami FL 33131
Phone Number: 305-985-7900
New York
111 8th Avenue
New York, NY 10011
Phone Number: 212-565-0000
Pittsburgh
6425 Penn Avenue
Pittsburgh, PA 15206
Phone Number: 412-345-6700
Playa Vista
12422 W. Bluff Creek Drive
Playa Vista, CA 90094
Reston
1875 Explorer Street, 10th Floor
Reston, VA 20190
Phone Number: 202-370-5600
San Bruno
901 Cherry Avenue
San Bruno, CA 94066
San Diego
6420 Sequence Dr., Suite 400
San Diego, CA 92121
Phone Number: 858-239-4000
San Francisco
345 Spear Street
San Francisco, CA 94105
Phone Number: 415-736-0000
Seattle
601 N. 34th Street
Seattle, WA 98103
Phone Number: 206-876-1800
Sunnyvale
803 11th Avenue
Sunnyvale, CA 94089
Washington, DC
25 Massachusetts Avenue
Washington DC, 20001
Phone Number: 202-346-1100