HERE'S WHAT YOU NEED TO KNOW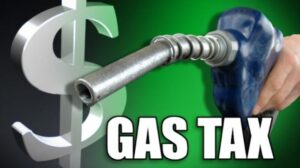 Eagle Forum always advocates budget reforms rather than tax increases. A gas tax increase is especially burdensome on those with low or fixed incomes, but it raises the cost of living for everyone in our state.
The bill sponsors promised during floor procedures to allow amendments that could lighten the tax burden to be brought up and debated during the regular session which resumes next week. We will be monitoring these possible changes and provide timely updates.

IT WILL BE PHASED IN OVER A THREE-YEAR PERIOD
Beginning on October 1st, 2019, consumers will begin paying an extra $0.06/gallon. The next year it will increase by $0.02/gallon and the following year another $0.02/gallon. By 2023 consumers will be paying a total of $0.10/gallon tax.
ADDITIONAL TAXES YOU NEED TO BE AWARE OF ("INDEXING")
Beginning on October 1, 2023, and on June 1 every other year thereafter an additional $0.01 tax per gallon will be added IF the National Highway Construction Cost Index (NHCCI) goes up. If the Index stays the same the $0.01 tax will not be added that year. If the Index goes down there is a possibility that the tax could decrease by $0.01. Historical data shows the Index usually increases unless there is a recession.
NEW ANNUAL REGISTRATION FEES YOU NEED TO BE AWARE OF
Plug-in hybrid electric vehicle: $100.00
Battery electric vehicle: $200. 00
Every fourth year beginning July 1, 2023, there will be a $3.00 increase in these fees.
HOW THE MONEY WILL BE DISTRIBUTED
Money collected from this new tax will be distributed as follows: Alabama Department of Transportation: 66.67%, Counties: 25%, Municipalities 8.33%
SEE HOW YOUR LEGISLATORS VOTED:
Alabama House of Representatives Scroll down to "Roll 18" on the right side; click that to see how the Representatives voted.
Alabama Senate Scroll down to "Roll 28" on the right side; click that to see how the Senate voted.

We encourage the legislature to find ways to cut spending on non-essential programs to counter this tax increase. We encourage Alabama taxpayers to contact their legislators with recommendations for cuts.