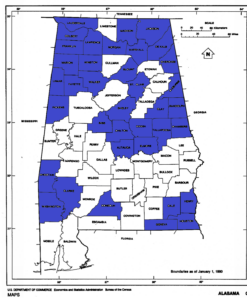 SB280 sponsored by Senator Brewbaker seeks to eliminate local control of County Superintendent of Education elections in more than half the state. The map shows each county in blue that currently elects their Superintendent of Education, but if SB280 is passed each of these counties will be forced to appoint. SB280 is expected to come up for a vote before Thursday in the House. This legislation will have two horrible impacts on local education. First SB280 will force over fifty percent of the Alabama counties to stop holding free elections.
Counties that hold elections for County Superintendent of Education will be forced to have the local board of education hand pick the County Superintendent. SB280 removes current rights from local education leaders and parents who live in the county. That means these Alabama Counties with Elected School Board Superintendents will be forced to stop conducting elections all together for County Superintendent: Autauga, Bibb, Blount, Chambers, Cherokee, Chilton, Choctaw, Clarke, Clay, Cleburne, Colbert, Conecuh, Coosa, DeKalb, Dale, Elmore, Fayette, Geneva, Henry, Houston, Jackson, Lamar, Lauderdale, Lawrence, Madison, Marion, Marshall, Morgan, Pickens, Randolph, Shelby, St. Clair, Tallapoosa, Walker, Washington, and Winston.
The second, critical impact of the SB280 is that it also removes local education rights from other counties in Alabama. Counties which currently have an appointed County Superintendent will not be able to hold elections. SB280 is modeled after legislation being pushed by special interests in other states to centralize education and reduce local control. SB280 centralizes power in the hands of a few and harms our communities.
All legislators should oppose SB280 since it completely removes your right to hold a local election for County Superintendent of Education, and SB280 prevents other districts from holding elections in the future. Contact your State Representative today. To find contact information for your Rep. go here ! Calls are needed now from individuals in each county! All will lose control of local election process in their county.